February 2011 – The Grocery Manu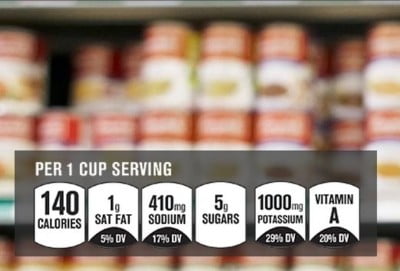 facturers Association along with the Food Marketing Institute have developed an initiative that will encourage members to place labels on the front of their products called "Nutrition Keys". The associations claim that the program was developed in response to first lady Michelle Obama's initiative to solve childhood obesity and to help busy consumers make better choices. However, some nutrition groups have called foul, accusing the food industry of end-running government regulators.
"We share First Lady Michelle Obama's goal of solving childhood obesity within a generation," said Pamela G. Bailey, president and chief executive officer of the Grocery Manufacturers Association, in a press release. "Food and beverage companies have a strong track record of providing consumers with the products, tools and information they need to achieve and maintain a healthy lifestyle, and this program represents a significant milestone in our ongoing effort to help consumers construct a healthy diet."
These claims are met with skepticism by some nutrition groups who claim that the industry is trying to pre-empt government regulators. The U.S. Food and Drug Administration is looking at establishing standardized definitions for what a manufacturer can or cannot claim on the cover of its package. It's final recommendations will probably be released late in 2011.
Nutrition Keys places four basic icons on food packaging that shows the amount of calories, saturated fats, sodium and sugars contained in each product. Some labels will include the amounts of good nutrients, such as potassium, fiber, protein, vitamin A, vitamin C, vitamin D, calcium and iron.
This latest effort for the industry to "self-regulate" has been compared to its 2009 "Smart Choices" program. Smart Choices allowed a company to use a symbol of its own design on products that met its own nutrition criteria so that even Froot Loops qualified as smart choices. After an investigation by the Connecticut Attorney General and critical comments by the Food and Drug Administration, the industry aborted the program.