Survey Shows 46% of grocers behind in omnichannel
April, 2017 – The number of brick & mortar grocers who have not deployed any omnichannel service offerings is over 46%. This according to Progressive Grocer's 2017 Report of the Grocery Industry. Omnichannel service programs provide customers with tools and messages both in-store and across a variety of digital devices with the goal of creating an integrated shopping experience. The report finds that only 12% of grocers have a full-fledged omnichannel program in place – 71% of respondents in the survey claim to be either just getting started with omnichannel services or they have a strategy they're in the process of executing.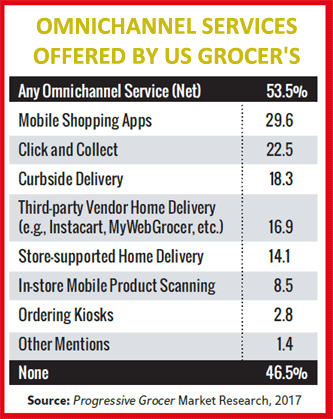 Of the 53% of grocers who are offering an omnichannel service, 31% provide a home delivery service either via a third-party-delivery company (such as MyWebGrocer and Instacart) or through a store supported program. Other omnichannel offerings include 'mobile shopping apps' (29%) ,  'Click & Collect' service (22%) and 'curbside delivery' (18%). Of course the home delivery service landscape operates in the shadow of Amazon.Com's services and initiatives such as AmazonFresh and Prime Pantry.
The 2017 PG research showed that 12% of grocers claim to have a fully integrated strategy using in-store, online and digital channels. The 46% of grocers who currently do not offer any of the services associated with omnichannel marketing seems to be a high number. On the other hand, offering a true omnichannel customer experience is expensive and may be beyond the reach of some independents. The hard part of a real omnichannel strategy is having back end systems that support the 'integrated experience' and these tools are more readily available to large national and regional chains. Not surprisingly, companies like Wal-Mart and Kroger have the more robust programs than many others in the industry.
Logic says that food retailers will need to get on board or risk being left behind. The demographic that favors these services are young families and affluent couples – who happen to be a grocer's most important customer. A 2016 study by the Grocery Manufacturers Association and The Boston Consulting Group reported that when it comes to online grocery shopping this demographic spends from 30% to 50% more across all channels than they would have done shopping in the traditional manner.