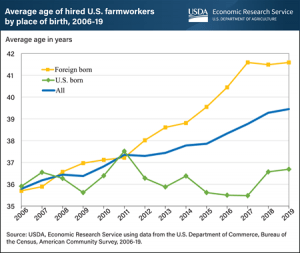 It's estimated that U.S. agriculture needs to hire between 1.5 to 2 million workers each year but the industry struggles to fill these positions. In 2019, before the COVID outbreak, 56% of California farmers reported being unable to find the workers they needed over the last five years. Employers have little luck in hiring native born US citizens, especially younger Americans, despite rising wages and increased benefits. Put simply, it's manual farming is work that most Americans do not want to do so the industry continues to rely on an immigrant workforce. Nationwide, immigrants made up an estimated 73% of agriculture workers (according to 2016 USDA data) mostly from Mexico and Central America; about 60 percent of these immigrant farmworkers were not authorized to work legally in the United States.
The overall labor shortage is exacerbated by the fact that that these immigrant workers are getting older and not being replaced by younger workers. From 2008 to 2019, the average the age of immigrant farm workers rose by nearly seven years so that the average age of these workers is now nearly 42. Laborers face hazardous conditions that include pesticide exposure, heat stress, and the physical toll farm work takes on their bodies. Unfortunately, a maze of US immigration policies and laws make it difficult for employers to hire younger immigrant workers needed to replace the aging, older workers.
What about H-2A Visas?
The H-2A temporary agricultural program allows agricultural employers who can't find domestic workers to bring nonimmigrant foreign workers to the U.S. to perform agricultural labor or services of a temporary or seasonal nature. Under the rules of the program, employers must provide things like housing and transportation and they must first look for U.S. workers to fill the roles. The program however is costly and not available to producers with year-round labor needs and there is general consensus that it has not solved any of the industry problems.
For the second year in a row, Congress is considering The Farm Workforce Modernization Act which would legalize hundreds of thousands of farm workers now in the country illegally. The bill would also overhaul the H-2A visa program for farm workers, providing dairy farmers and other producers the opportunity to bring in workers for three-year visas, assuring year-round labor needs are met. Passage of the bill into law is not certain.