[vc_row][vc_column][vc_widget_sidebar sidebar_id="headerad"][/vc_column][/vc_row][vc_row][vc_column width="2/3″][vc_column_text]HOME  » Features » Facts, Stats & Charts » 10 most valuable fast food brands worldwide
The 10 most valuable fast food brands worldwide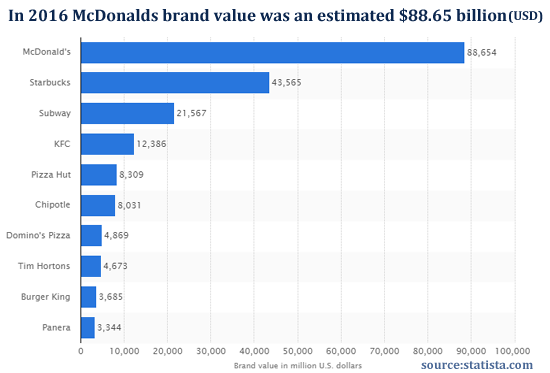 The above chart shows the brand value of the 10 most valuable fast food companies worldwide in 2016 according to data compiled by Statista. McDonald's comes out on top by a wide margin with an estimated brand value of about 88.65 billion U.S. dollars. In 2015, McDonalds generated close to 36 billion U.S. dollars; about 22 billion U.S. dollars more than its closest rival, Starbucks.
Generally speaking restaurants in which customers order and pay at a counter are considered to be fast food outlets. Wikipedia provides a pretty good definition:
A fast food restaurant, also known as a quick service restaurant (QSR) within the industry, is a specific type of restaurant that serves fast food cuisine and has minimal table service. The food served in fast food restaurants is typically part of a "meat-sweet diet", offered from a limited menu, cooked in bulk in advance and kept hot, finished and packaged to order, and usually available for take away, though seating may be provided at the restaurant. Fast food restaurants are typically part of a restaurant chain or franchise operation that provisions standardized ingredients and/or partially prepared foods and supplies to each restaurant through controlled supply channels. The term "fast food" was recognized in a dictionary by Merriam–Webster in 1951.
Many of the companies that operate in the fast food sector are franchised. McDonalds, for instance has over 36,000 stores worldwide and 82% of these are run by franchisees.[/vc_column_text][/vc_column][vc_column width="1/3″][vc_widget_sidebar sidebar_id="sidebar-1″][/vc_column][/vc_row][vc_row][vc_column][vc_widget_sidebar sidebar_id="headerad"][/vc_column][/vc_row]