[vc_row][vc_column][vc_widget_sidebar sidebar_id="headerad"][/vc_column][/vc_row][vc_row 0=""][vc_column width="2/3″][vc_column_text 0=""]HOME  » Features » Facts, Stats & Charts » Technology Trends Top NRA 2017 Consumer Trends Report 
Restaurant customers trending towards 'tech-trends' when making choices on where to dine out.
A 2017 survey by the National Restaurant Association identified a dozen key trends among consumers. Half of the identified trend were tech-centric. Among the findings:  1) 80% of millennials have used free wi-fi in a restaurant in the last year;  2) 34% of smartphone users have used their phone to pay for a meal; 3) 42% of consumers say the ability to order online would make them choose one restaurant over another; 4) 20% of consumers would rather use technology than interact with restaurant staff; 5) 30% says technology makes them dine out or order takeout/delivery more often; 6) 45% say technology makes restaurant visits and ordering more complicated.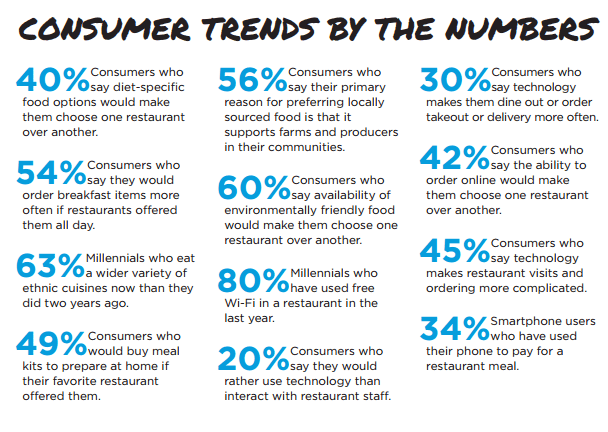 [/vc_column_text][/vc_column][vc_column width="1/3″][vc_widget_sidebar sidebar_id="sidebar-1″][/vc_column][/vc_row][vc_row][vc_column][vc_widget_sidebar sidebar_id="headerad"][/vc_column][/vc_row]